The Roaming Giant
Functions & Events
The Roaming Giant has a designated function area available for private hire as well as a number of other areas that can be booked for small or large groups. We can host wedding receptions, corporate dinners and other special events. If you would like to book an event at The Roaming Giant, simply complete the form below, send us an email at functions@theroaminggiant.co.nz or give us a ring on 07 853 2790 - we'd love to see you here!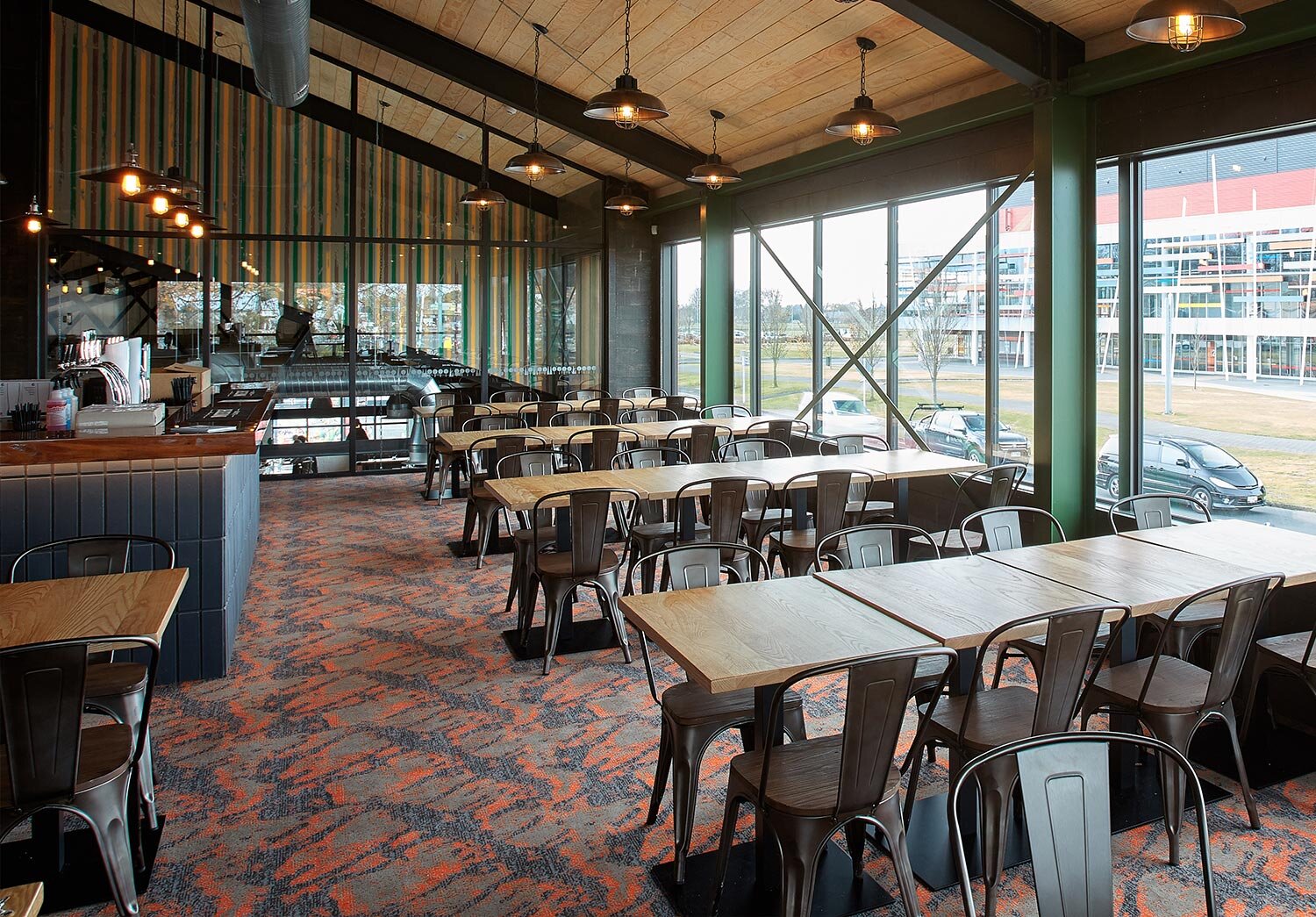 The upstairs function room is separate from the rest of the Roaming Giant, with its own bar and toilet facilities, and enjoys views of the surrounding area as well as the bar below. The function room can seat up to 56 people for lunch or dinner as well as cater to up to 100 for a standing function. The function room also has AV facilities available making it perfect for corporate presentations and board meetings.
The downstairs dining area at the Roaming Giant contains two separate areas, the smaller of the two can seat 40 diners. This area is also the more intimate of the two, as it is quite closed off from the rest of the bar. This dining area is rectangular in shape with booths surrounding the outsides and free standing tables in the inner section. It has a large screen television which can be set to a desired channel or left off. The area can be arranged differently according to your function needs and is perfect for larger lunch and dinner gatherings, such as work functions.
The larger of the two downstairs dining areas can seat up to 60 people and has a more open feel, surrounded by large windows with a functional flow into the rest of the bar. The raised platform design of this area and large feature wall creates a degree of intimacy and segregation, while still incorporating the atmosphere of the restaurant to these diners. There is a large screen television in this section which can be set to a desired channel or left off. This area has a mix of seating with booths around the outside and freestanding tables of different sizes in the middle. The arrangement of these can be slightly altered, making it perfect to hire out for large corporate and social sit-down functions.
The Roaming Giant's private dining table seats 10 people and comes with its own fireplace and 50 inch TV with AV capabilities. While the area is not completed segregated from the rest of the bar, it provides a degree of separation and intimacy that makes it perfect for an important family dinner or small corporate function. The area can also be used for standing functions of 15 to 20 people.
The southern half of the Roaming Giant garden bar is available for hire for seated dining or a standing function. This area of the garden bar can hold 40 people for a seated function or 80 people for a standing function. Facilities include a retractable canopy to allow sunshine in summer and shelter in winter, a fireplace, electric heating and a 55inch TV. This area also has uninterrupted access to the bar, toilets and car park.